Greetings to you all, tis I, Elagabalus.
Let us directly continue from where we last left off, shall we?
What better way than to show another author standing up for the blatant shenanigans of a power abusing mod team!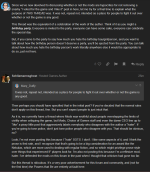 But alas, Mary likes to get the last laugh. And made sure of it.
Only she could post in real time, anyone else would have to wait

and once she finished having the last word?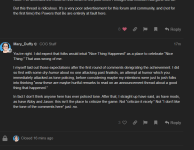 Closed! None could counter, none could offer more discussion.
And what happened to the two who offered a counterargument? Including that of the Relic's author?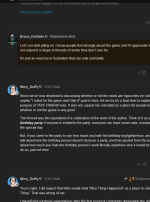 Why they were erased!!!
Gone, reduced to atoms, as a great purple man would like to say. Any hint of people making sense, was made to vanish into the ether.
But nay, some do not like to take things lying down!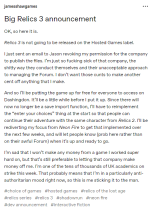 Bravo! Bravo to an author standing up for themselves and not putting up with tyranny! Even better, Relics 3 will be free for us all!!!
Some had tried to spread the news to the reddit! But guess what awaited?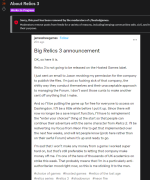 Deleted and the user who shared banned from the reddit. Behold! Injustice!
And finally, after a long day of being showered with support by readers and authors alike who were tired of Choice of Games blatant power abuses: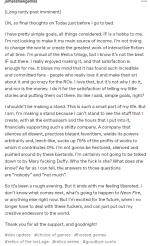 I must plead, my friends! Please! Show this author your support!
A website for interactive novels written by James Shaw. Right now, that means the "Relics of the Lost Age" trilogy. Maybe someday there'll be more!
www.tumblr.com
Show this author you stand with him!
Send the man supportive asks, shower him in his inbox that you approve of such courage!
That is all from I, Elagabalus, today.
When people begin to show support for Choice of Games and side with them anywhere, point them in old Elagabalus' direction.
May Jupiter Optimus Maximus keep you all in his light.